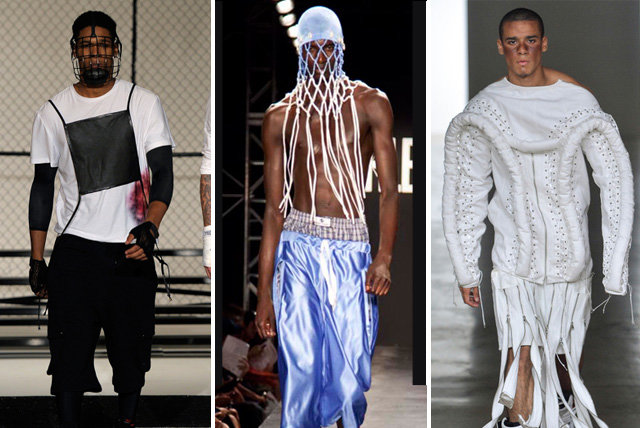 While there are plenty of Spring 2014 collections at New York Fashion Week built for well-dressed normal guys, the opposite end of the NYFW spectrum boasted a whole bunch of next-level, eye-popping, borderline unbelievable looks from some of the most well-respected menswear designers in the world.
When it comes to wearing a du-rag basketball net around your head, you don't. And you never will. But there are dudes cool enough to do it -- the designers & models risking life limb reputation in NYC this week. These are next season's best 11 outfits that they can pull off, even though ordinary dudes can't.
Rochambeau
This young brand makes its clothes in NYC, and knows that while scissors beats paper, pretty much nothing beats you if your face is protected by a catcher's mask/hockey cage.
CHECK MORE FROM ROCHAMBEAU HERE
BLK DNM
Given that the brand's high profile recently won us all the right to see Gisele sorta-naked, few of us will ever be able to actually buy stuff like this high-end translucent, American Psycho-esque jacket.
CHECK OUT MORE FROM BLK DNM HERE
N. Hoolywood
Urban Cowboy meets Joel & Ethan Cohen for a drink in Tokyo. Or is it Midnight Cowboy? Which one is Travolta in? Either way, this Japanese brand's next season is too next for most.
CHECK OUT MORE FROM N. HOOLYWOOD
General Idea
ROLL UP TO THE SCENE WITH YOUR SLEEVES MISSIN'! / ROLL UP TO TH-- well, you get the Idea.
CHECK OUT MORE FROM GENERAL IDEA
Hood By Air
Recognize the Nike snowboard boots.
Note the tentacles and sinewy leather ridges.
Understand that you are not on HBA's level.
CHECK OUT MORE FROM HOOD BY AIR
Y-3
Bieber was at on-hand to see Spring 2014 from adidas' high-end label, which has both nothing to do with the reason normal dudes won't wear this plunging neckline gym dress, and everything to do with it.
VFILES
When Kevin Garnett screamed "anything is possible" a few years back, he had no way of knowing that a man wearing a basketball-net du-rag would soon be included in "anything".
Duckie Brown
You may like your sweatshirts to fit like sweatshirts, but CFDA-nominated NYC label doesn't give two sweatshirts what you like, dammit! That said, its diffusion shoe line with Florsheim a few seasons ago was a handsome step towards the mainstream.
CHECK OUT MORE FROM DUCKIE BROWN
Tim Coppens
"Did somebody call the futuristic Eastern European fire department? Because it's about to get HOT in here."
CHECK OUT MORE FROM TIM COPPENS
Mark McNairy
The f**k-the-man American designer has been known to be a bit dotty, but next season is even more in-your-face than that flimsy polka-dot pun.
CHECK OUT MORE FROM MARK MCNAIRY NEW AMSTERDAM
Siki Im
This whole cellophane-and-wash cloth thing was supposedly inspired by a Russian prison documentary, but could you rock it without being laughed at? No (Eastern) Promises.
RELATED: HERE ARE 7 SMALL-BRAND COLLECTIONS YOU CAN ACTUALLY WEAR