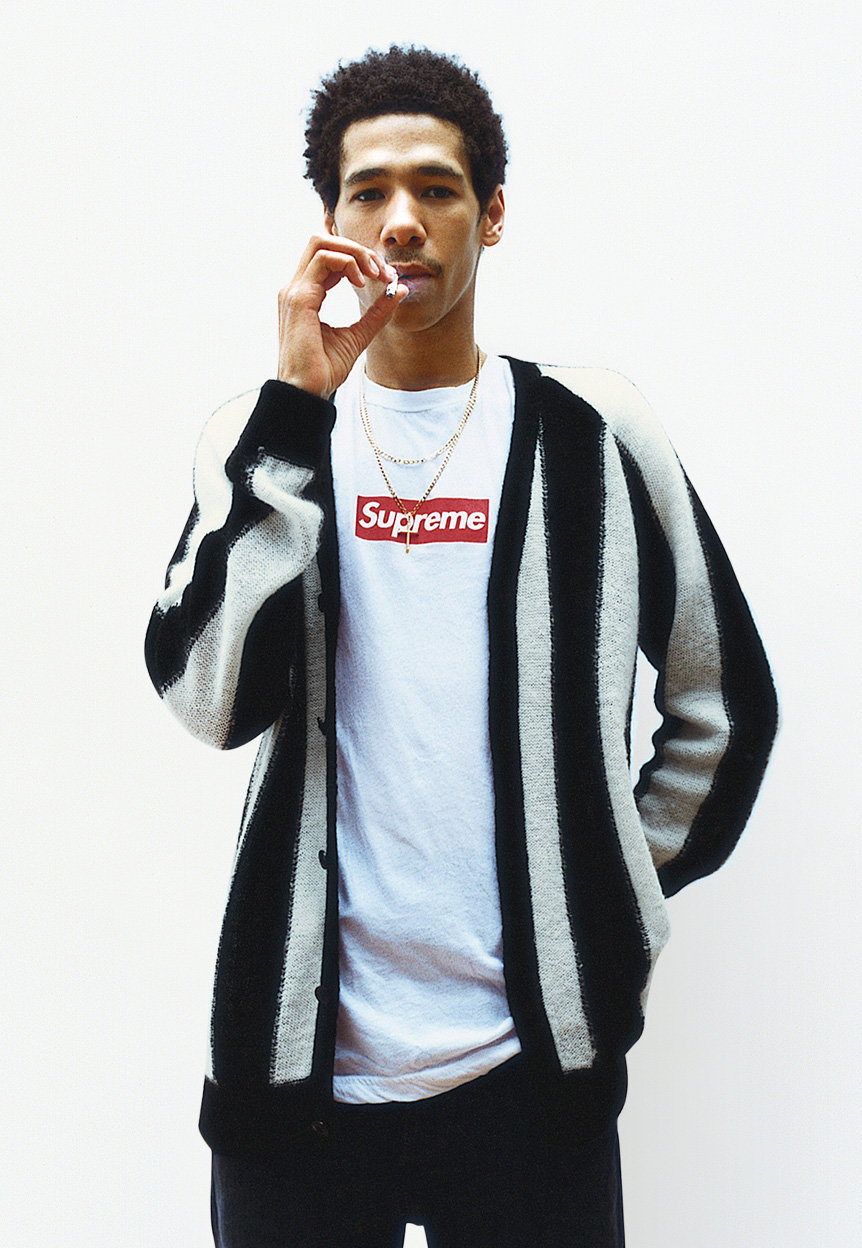 This morning, Supreme released a full preview of its Fall/Winter 2013 Collection. As with all general-release collections from the longtime New York City trendsetters, this drop is massive. As in, like, hundreds of pieces of tasty streetwear.
We weeded through the base and beautiful to bring you only the best new patterns, collabs, and profiles from Jebbia & Co.'s upcoming collection.
Check out our break-outs below, and keep an eye on Supreme's webstore, where the entire collection will be available (albeit briefly) starting on August 29th. It hits non-Japanese brick-'n-mortars a week earlier, on August 22nd.
Gym Class Heroes: From Varsities to Hockey Jerseys
Dig into a clutch of retro-esque varsities, coach jackets, hoodies, and baseball jerseys, all just in time for heading back to school in the mid-'70s. Our favorite piece from the collection's athletic vein is the full-length turquoise hockey jersey, which is emblazoned with gold fleur-de-lis.
Looks like it's time to break out the Messier sweater -- hockey jerseys are coming back if Supreme says so.
Bombers: Still the Bomb
Think Drive meets Speed Racer meets Rebel Without a Cause, and you've got this season's standout leather piece: an MA-1 from Supreme and longtime partner Schott. Other bombers include a Moncler-looking shiny nylon piece, splashed with two roses. Just don't snag that delicate nylon on any actual thorns...
Collaborations: Schott, Champion, Jawbone, Wise Racing... Wait, What?
This being New York streetwear, you knew there would be collabs. But amidst all the familiar faces, there was a surprising fire-engine red box-logo'd Jambox from Jawbone, and a downright SMH NASCAR pit crew jacket from Wise Racing. So if there was ever a time for Middle America to "get" Supreme, it's right now.
All About the Benjamins. And the Lions. And The Egyptians.
Far more interesting than the paisleys, polkas, "Pacific Camo", and engineer stripes throughout the collection, are the Lafayette Street heavyweight's interest motifs. Dig into the gilded lions, Eyes of Horus, random throwback "Supream" all-overs, and macro splashes of the hundred dollar bill.
"F**k You, Pay Me" is nowhere to be found in this release, but anyone seeking to channel unbridled aggression can do so with the "Hate" pattern.
The Shane MacGowan Show
This season's Random Man of Note is Britain's Shane MacGowan, the onetime frontman of The Pogues. The Fall/Winter 2013 collection has a couple tees printed with black/white pictures of the punk rocker and his artwork. To learn (a little) more about MacGowan, check out Supreme's corresponding interview here.
RELATED: #BLESSUP -- 6 OVER-THE-TOP RELIGIOUS TEES YOU CAN BUY RIGHT NOW