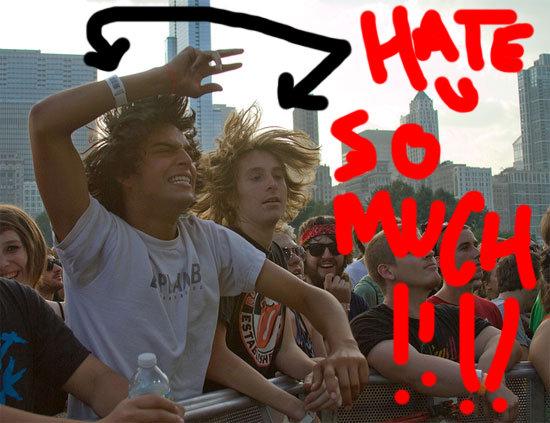 Coachella is full of idiots wearing flower headbands, and is incredibly dusty. Bonnaroo is all shoeless nerds who like jam bands. SXSW is worse than sitting at a table in a restaurant next to a group of white women in their early 30s who have just finished their second bottle of white wine. (Yes, that bad.) Austin City Limits? Hell no. CMJ? Kill me, and then yourself.
But as bad as these "festies" are, nothing, nothing... nothing is worse than Lollapalooza.
Conceived in the early '90s by Jane's Addiction frontman/ heroin-chic style pioneer/actual heroin user Perry Farrell, the festival was originally comprised of mostly rock/alt rock/grunge bands, and it was pretty cool. It was just lots of dudes who (probably still) hate their dads moshing & sweating together.
Nirvana played the festival a couple times until Courtney Love decided to murder her husband. Popularity waned during the middle of the decade, and by the late '90s it became so unpopular that it got canceled. For five years.
It should have stayed canceled.
In 2003, Farrell decided to revive the concept, but convert it to a mainstream music festival. Now there's a mix of rock (Queens of the Stone Age), rap (Kendrick Lamar), EDM (Knife Party), nerds who aren't good but have stayed #relevant (Matt and Kim), and bands that nobody has ever heard (Planet Hemp. They suck!) And it's just the worst.
Why?
Well, Mr Reader With Good Taste In Lifestyle Websites, I'll tell you why.
5 REASONS LOLLAPALOOZA IS MORE UNBEARABLE THAN ALL OTHER FESTIVALS COMBINED, TIMES 10 MILLION
The People (aka "The BROtient")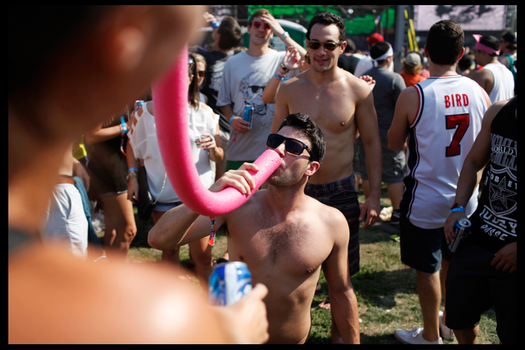 (Yes, that's short for "The Bro Quotient.")
All music festivals have horrible people, but "Lolla" most definitely takes the cake. At Coachella for example, the crowd is comprised of rich LA girls dressed like hippies who eat gum and cocaine for dinner, tweaking wiggers from weird NorCal areas that nobody cares about (like San Jose), and pot dealers from Humboldt County named Derek who wear funky hats.
Now those people aren't great, but they're all national treasures compared to the goblins from Chicago (and its surrounding areas) who attend Lollapalooza.
FACT: LOLLAPALOOZA IS THE ONLY FESTIE TO HAVE TRUE BROS.
Now I'm not talking about buff dudes who wear Kanye West sunglasses and oil themselves up just to listen to EDM. No, no -- I'm talking about true bros, men with ear-hair wearing PacSun t-shirts & flip-flops who beat an assault charge at the University of Good Football Team circa 2005.
Plus, it's filled with hipsters who catch trend waves 2.5 years late, and Midwestern gays, who are the WORST. They are fat, too drunk, and poorly dressed, which basically violates everything that the magnificent gays of New York City & Los Angeles hold dear.
The Parties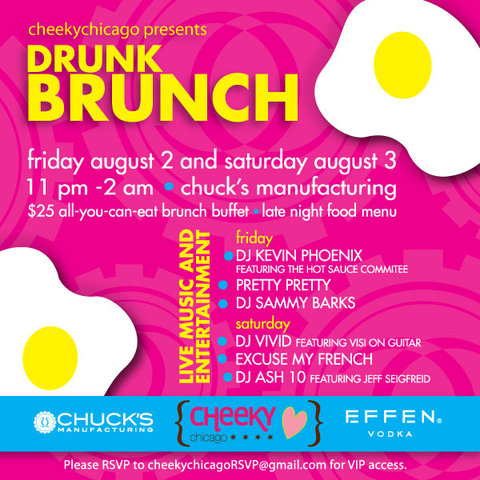 I know you didn't read that flyer just now, but you should, because it's mind-blowingly B-level. Effen Vodka? FYI: Real famous people don't go to Lollapalooza. Neither do influential or quality brands. At Coachella you might see Katy Perry DJ for no reason at an H&M party in a private mansion. Whatevs, but that's light-years better than seeing Stephen Dorff DJ a party in a Hard Rock Hotel ballroom sponsored by Polaroid's new line of sunglasses.
WHAT???
They don't even have good gifting suites where you get free stuff for no reason. All I got was bottle of conditioner and a pair of socks. Functional, but lame.
The Lineup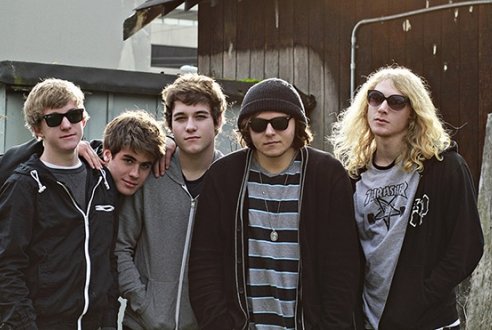 One word: formulaic. It's basically the last major festival of the year, but "Lolla" decided to book the same bands that every other one did. A mix of zeitgeist-y acts that won't be there in 2014 (Baauer, Icona Pop), tired acts that are disgustingly over-exposed (Mumford and Sons, Phoenix) a weak rap lineup (Chance the Rapper was the 2nd biggest act on the bill, which is not OK), and people who generally suck (The Wheeler Brothers) make for a bland weekend of music.
Some guy in the Dallas Observer wrote a great article about this problem. Read it. Stop pretending you're busy. The band in the photo above is called "The Orwells". They played, and sounded exactly the way the blonde dude feels on the inside. (HINT: Not good.)
The Vomiting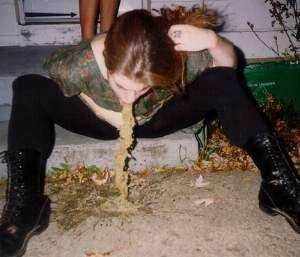 In my combined 16 hours of festival attendance, I saw eight people puking. In case you're an idiot, that's one person every two hours. If that seems like a lot for one person to see, that's because it is. What could the explanation be? Well, as opposed to a festival like Bonnaroo, where people are on acid thinking their fingers have morphed into tiny penises, the "Lolla" crowd is just DRUNK, because (again), everyone there is a horrible Midwesterner who loves day-drinking.
If I have to choose between a dude chasing butterflies in a wizard hat on a type of ecstasy called "ObamaLove", and some blonde girl from Indiana with bad taste in shoes screaming while blackout drunk on Miller Genuine Draft, I'll take the sh*tty wizard any day.
The Cellphone Service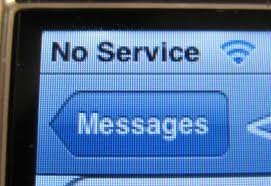 Music festivals have a general problem with cellphone service, which can often be attributed to the fact that they are located in remote areas, like the desert. Or a farm in the middle of nowhere. BUT THIS FESTIVAL IS IN GRANT PARK, LOCATED IN THE MIDDLE OF CHICAGO, AMERICA'S THIRD-LARGEST CITY.
I'm screaming at you in caps because it just doesn't make any sense that there would be no cell service.
Or because I'm coked up. One of those.
Honorable mention: this Lollapalooza Craigslist "Missed Connection." It sums everything up.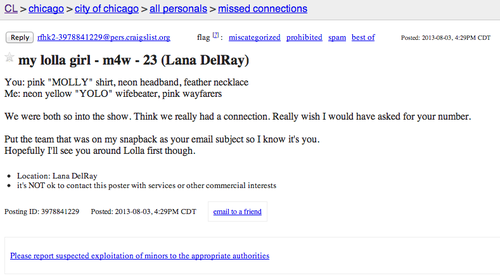 WANT MORE ARTICLES FROM THE FAT JEW? YES, YOU DO. CLICK HERE.