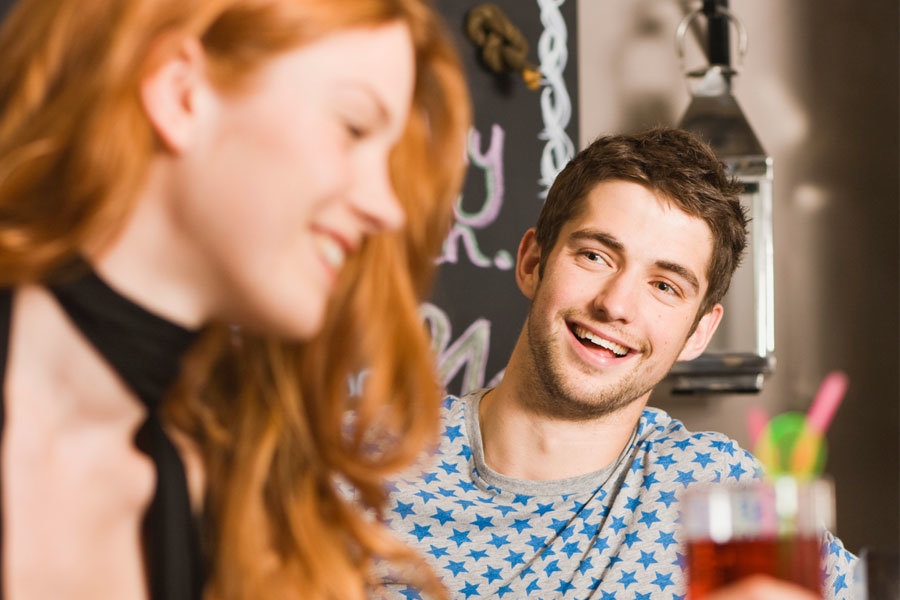 DEAR MEN,
You've seen it before.
You're in a place where people consume alcohol and listen to music. You see your friend leaving with a random woman. You know what that means right? It means he's going to have some sort of sexual relations with her.
I really hope you knew that.
You're definitely excited for him (or at least you should be, because anyone who doesn't root for their boys to score with chicks is basically the worst guy ever), and your alcohol-addled mind wonders: Exactly what will happen between them?
The next morning arrives, and you're definitely curious. Now, the way that women traditionally recap a sexual encounter is either:
(A) over the phone; or
(B) at some sort of meal, usually a brunch
The encounter is thoroughly discussed, analyzed, and over-thought, with no detail spared ("his hands were soft but also strong," "he had a framed photo of his mom looking hot in the '70s, which I thought was nice but also kind of weird.")
With men however, it's a much different story. Unless something monumental transpired, like she turned out to be a man with a prison record named Chief, the recap of a sexual encounter between men is generally very brief:
"Yeah, we f**ked."
"We got naked and she rubbed my crotch a lot but nothing really happened because she supposedly has a boyfriend. So annoying."
"She was so drunk she stumbled into my closet and fell asleep."
And that's about it.
It's not that guys are uncomfortable talking about these types of things, it's just that we want the bottom line and not a long dragged-out story. We want brass tacks. The scoop. The goods. I don't need to know that the girl you slept with lives in SoHo in a studio that gets "good light" or that she put on a Juicy J song when you started making out which makes her "kind of awesome." Because I don't care.
IF IT DOESN'T INVOLVE YOUR GENITALS, I DON'T WANT TO KNOW ABOUT IT.
It would be absolutely fantastic if we were able to summarize a hookup in one single emoticon. That way, I could find out everything super quick, via text. But the Emoji app for iPhone, (which deemed it necessary to have a fried shrimp emoticon) has no such symbols. So insensitive. Currently your only option is the "OK" finger symbol with a pointed finger going towards it, making the classic hand symbol for sex.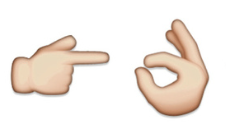 Fun, but also lame.
And also -- what if the sex was bad? Or you didn't even have sex at all, because when you got back to her apartment she tried to dress you like a baby and breastfeed you?? We need alternatives to tell these types of stories. So I created some.
You're welcome.
LOVE,
THE FAT JEW
Editor/Hunk
BAD SEXUAL ENCOUNTER EMOTICONS THAT SHOULD EXIST
ET's Finger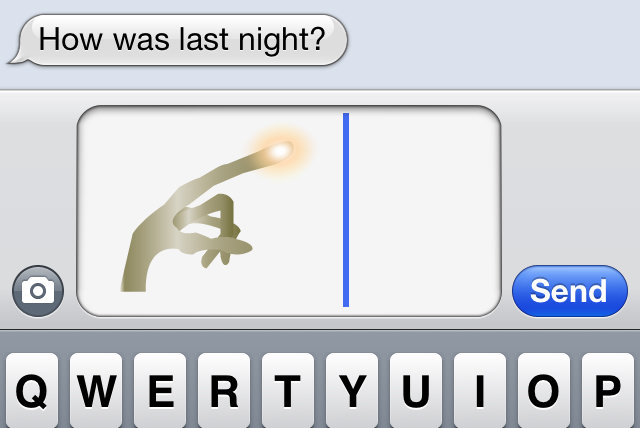 She gave you a dry handjob that chafed your junk until it glowed red, like E.T.'s Finger.
Cranberry-Vodka Breath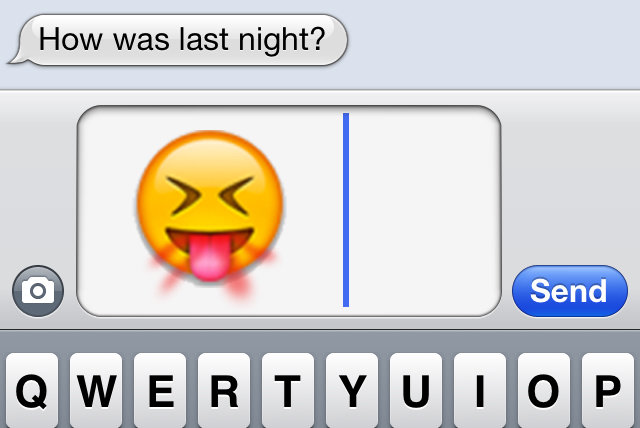 Cranberry-vodka is a deadly drink for your mouth because it basically makes it smell like the vegetable drawer of a frathouse refrigerator. Filled with a corpse. This emoticon lets people know you couldn't even kiss her because she was throwing 'em back all night.
Cold Sore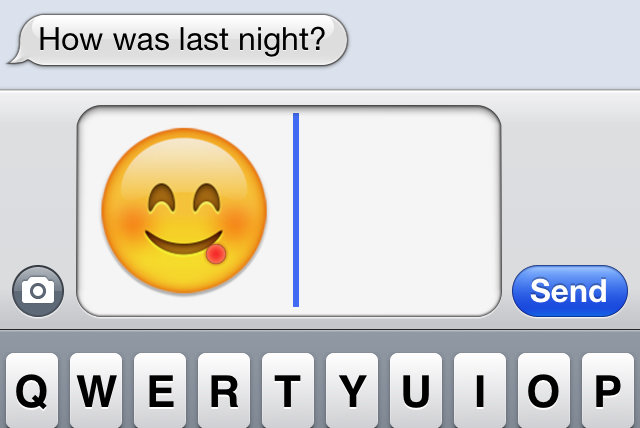 This says "I need a keybump of Valtrex, like now."
Amanda Bynes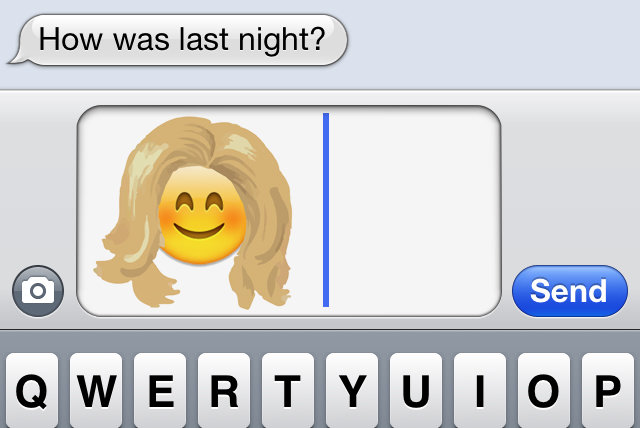 You got her home and realized she was crazy. Not like, in a sexy way, but in a like... she's-in-a-really-dark-really-unattractive-place-right-now way.
Smelly Vagina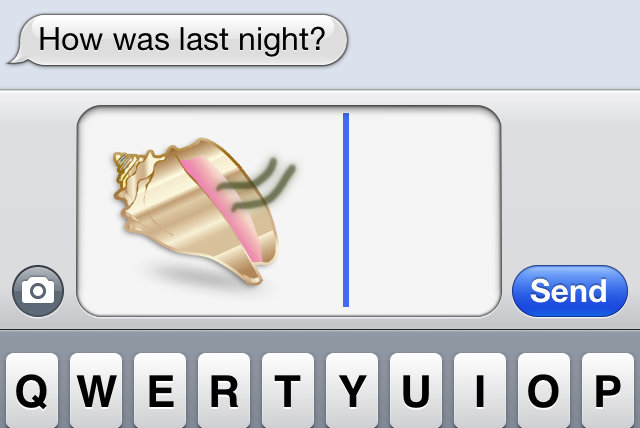 Maybe her seashell had a strong musk, so strong in fact that you wouldn't dare enter it. This lets a friend know that.
Oven-Mitt Handjob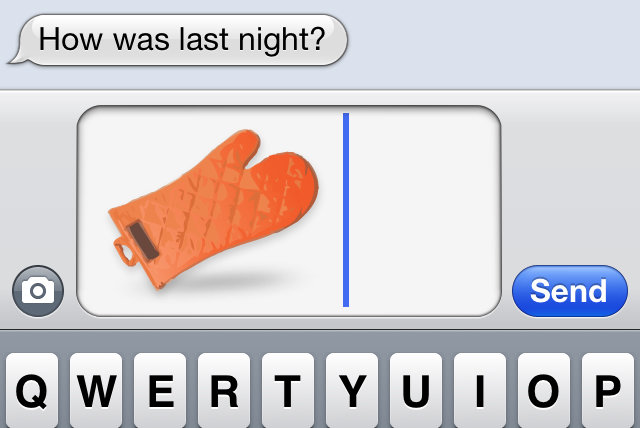 She gave you handjob with an oven mitt on! (I didn't really need to explain that one, I guess.)
Just The Tip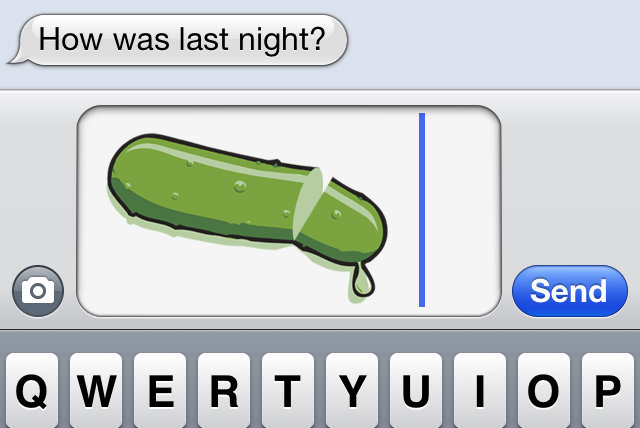 Classic. The girl "wants" to have sex, but also has like a million reasons why not to.
"I usually don't do this type of thing"
"I'm on my period"
"I barely know you"
"I just got out of a long relationship"
"Blah blah blah blah blah"
This conundrum usually resolves itself when she accepts some sort of bizarre middle ground, like allowing you to enter her with only the tip of his penis. The conundrum of how to express that via text resolves itself when I make an emoticon about it. BOOM.
Couldn't Get An Erection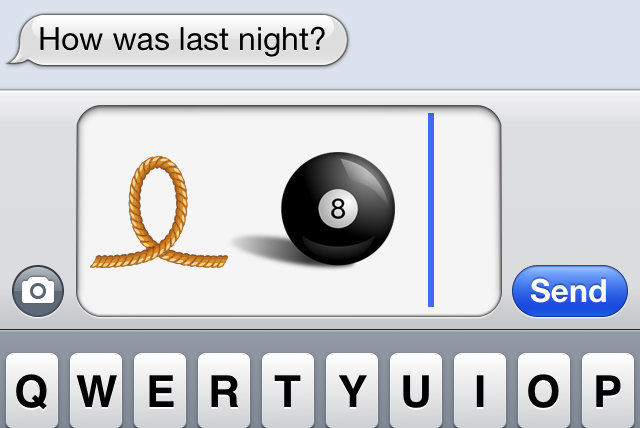 As my Uncle Murray always says, "trying to have sex after consuming enough drugs and alcohol is like trying to shoot pool with a rope." He's creepy, and right. What better way to let someone know that you couldn't achieve?
RELATED: MORE FROM THE FAT JEW
[Main photo: RyanSeacrest]