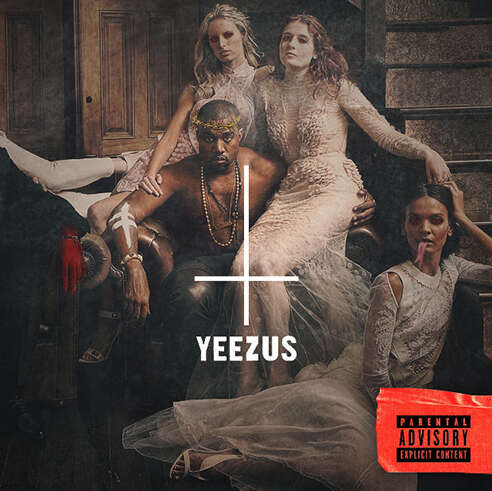 All hail #Yeezus, for today is #YeezusDay, the 18th of June, MMXIII. May his reign last forever.
If, as I did, you woke up today with a lightness in your step and and butterflies in your stomach over thanks to the arrival of Kanye West's newest album Yeezus, then you, my friend, are one of Yeezus' own and today is your day; #YeezusDay.
Lace up your Air Yeezey 2s, don your all black smoking jacket, wriggle into your leather pants, and place around your neck two gold rope chains.
You are now ready to ride out and celebrate #YeezusDay. Let me show you how.
Seat Belts:
First, in the car today, buckle your seat belt. Kanye's break out 2004 single "All Falls Down" was recorded while he had his jaw wired shut after a near-fatal car crash in Los Angeles.
The only reason we've gotten a chance to enjoy Kanye's music, from The College Dropout all the way down to Yeezus, is because homie wasn't too cool for the safe belt.
Let Kanye Piss You Off? In A Good Way:
Yeezus is utterly oozing with anger; Through out the album, on songs like "New Slaves", "Black Skinhead", "I Am A God", whether through his lyrics or his raw, broken down, scary sound, Kanye is telling us he's angry.
He's angry at corporations, industry executives, his ex-girlfriends, other artists, even himself.
So, as you play through Yeezus this morning, listen to Kanye's anger. Though it may sound weird to say, let Kanye West piss you off. It's invigorating. It feels good.
Pay Tribute To The Women In Kanye's Life:
Kim Kardashian... I'm not saying you should watch Miss Kardashian's sextape with her then-boyfriend Ray J, but if you're into that, do that.
Otherwise, enjoy these snaps of Kanye and Kim shot by Nick Knight for French mag L?Officiel Homme.
Then peep the above Louis Vuitton ad featuring Kanye West and Amber Rose. Miss Rose shared a fling with Yeezus from 2008 to 2010. She may be with Wiz Khalifa now, but she had her taste of Kanye back in the day.
On a far more somber note, make sure to say a little prayer today in remembrance Kanye's mother, Donda West, who passed away in 2007 from elective cosmetic surgery, specifically abdominoplasty and breast reduction.
In honor of her, watch Kanye's performance of "Hey Mama" to close out his 2011 headlining Coachella set.
Rant!:
If you're giving an sort of presentation at work today, make sure to take a few minutes in the middle of it to rant on the corporations trying to hold you back, the luxury brands trying to sell you stuff you don't need, or pretty much anything that comes to mind in the moment.
Check out any one of these classic Kanye rants for inspiration.
Vibe Out To Yeezus' Samples:
Post-rant (after you've successfully burned your professional bridges), hide out at your desk and pretend to be doing very important work while you stream through a mix of the samples Mister West uses in Yeezus.
The most unexpected sample: Gary Glitter's "Rock And Roll (Part 1 & 2)" on Kanye's "Black Skinhead". You know "Rock And Roll"? that pump up song they play at sports stadiums to get the crowd cheering? No? Well, check it out.
Go To The Most Lavish, Experimental Restaurant You Can Find:
When we asked chef and VICE travel series host Eddie Huang to describe what food best epitomized Kanye West, he said any sort of crazy experimental food, anything expensive, beautiful, but almost-inedible.
Thus, find a restaurant where only the snobbiest of food adventures go and get a table.
Enjoy The Glory That Is Yeezus:
With dinner done, return home to your apartment, cut out all the lights (boom, pun on "All Of The Lights"), and play Yeezus through. Make sure to play it from start to finish. Make sure to scream along with Kanye at the screaming parts. Make sure to enjoy.
If you haven't downloaded Kanye West's Yeezus album yet, do that via KanyeWest.com here.
NOW READ "KANYE WEST'S 26 MOST ABSURD YEEZUS LINES TAKEN HILARIOUSLY OUT OF CONTEXT".
[Homepage Photo Credit: 2DopeBoyz]
[Photo Credit Kim & Kanye: TheJasmineBrand]