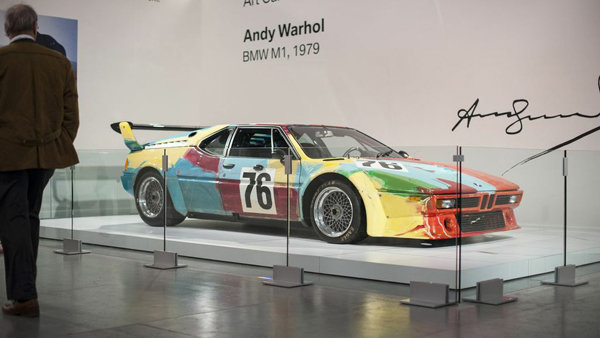 It's true, it only took Andy Warhol 24 minutes to paint up this BMW M1 racecar back in 1979.
It was part of an exhibit by BMW M1 creator Jochen Neerpasch, and was actually the 4th car painted. The first three were painted on a smaller scale model by other artists and transferred over to the real thing.
Warhol said he's painting the real thing, because f**k you, that's why. So he grabbed a foam brush, felt the car with his hands, and painted what he saw fit, finger-signing it right near the exhaust.
When the media found out about the project, they shot over to the garage Warhol was working at but were too late, since it took him such a short amount of time.
"Should I paint another car? " Warhol asked. The shop owner was none too pleased.
The M1 still runs, and holds a 488-mph Inline six cylinder, but mysterious ignition problems means that the can hasn't been started 2009.
Head over to Autoweek.com for more on the Andy Warhol-Painted BMW M1 Racer.
THAT CAR MIGHT BE PAINTED, BUT THIS CAR HAS ONE SEAT. THE LAMBORGHINI EGOISTA IS HERE.