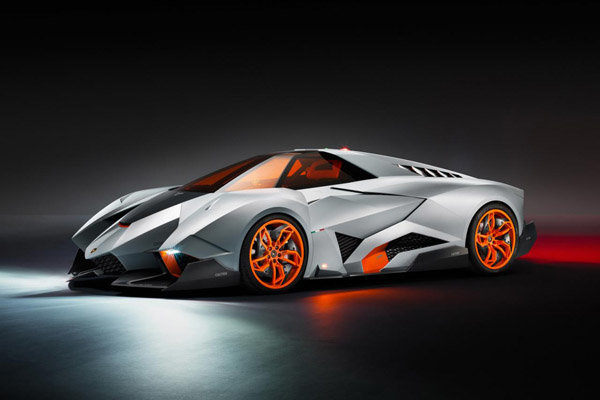 Looks like the Raging Bull has no intentions of cutting its 50th Anniversary celebration at all short: Lamborghini unveils its latest concept, called the Egoista.
Based on a first glance, this hilariously named beast looks vaguely like an Aventador, but it's been extrapolated to an aesthetic extreme with an angular body and a ridiculous hood. So basically, while the Aventador is good for everyday billionaires, the Egoista should only be driven by villains in fancy Hollywood blockbusters involving Iron Man and/or Batman.
Because it means "selfish" in Italian, the Egoista is a one-seater. Designer Walter de Silva may or may not have dreamed of building aircraft, 'cause the supercar's lightweight carbon fiber frame supports a literal cockpit, with a removable canopy, all of which is draped in an orage padded lining reminiscent of space suits.
All the knobs and buttons, as well as the F1-like steering wheel and digital crosshair flip-up screen make it more video game-like than actually driving a Lamborghini. If they every decided to release it, missiles should be an option.
Sadly this 600 -rsepower, V10 chariot will never be made (or at least, there's no plans for it just yet.)
Check out more about Lamborghini's 50th Anniversary here.
CLICK HERE FOR LAMBORGHINI'S GRAND TOUR OF ITALY FOR ITS 50th ANNIVERSARY.