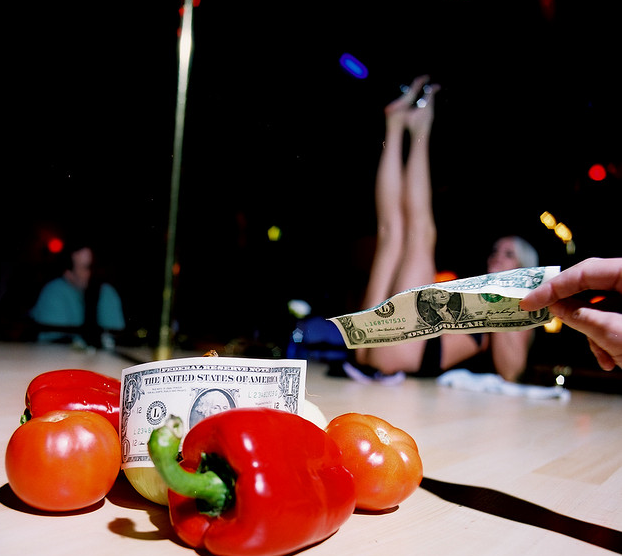 You know what's hard? Math. Science. Finding a strip club that serves quality food.
Rick's Cabaret in Midtown Manhattan has a wonderful Caesar salad (they claim to bake their croutons on premises, which is a definite lie); Club Cheetah in Atlanta has a delightful Sunday brunch featuring a bacon & goat cheese omelette that's light & playful; and Dallas' The Lodge has a cheeseburger that will give you a mouth erection (mouthrection?)
But you know what's even harder? Finding a strip club that serves quality food with healthy, vegan options.
If that's the kind of thing you're into, Casa Diablo, located in Portland, Orgeon, might be your favorite place ever.
(Fun fact: Portland has more nudie bars per capita than any other place the United States of America. Did I blow your mind a tiny bit?)
Casa Diablo prides itself on serving 100% vegan fare, and employing 100% vegan strippers. However, when I tried to take pictures of myself eating for this piece, I was immediately stopped by a 300-pound bouncer who was definitely not vegan, and definitely doesn't understand the rigors of actual reporting.
But is the vegan angle simply fun fodder for jokes/insults, or does it actually make for an enjoyable evening?
Well, it's kind of both. The food was shockingly good. The hummus vegetable wrap was bursting with color and flavor, and the yakisoba noodles were rich and comforting.
The music however, was insanely bad, in the 90 minutes I was there (fine, 3.5 hours) they played two Sugar Ray songs. TWO SUGAR RAY SONGS.
Also, I guess not everything edible was good. The lentil soup was gross, but that's fine, because nobody should be eating lentil soup in a strip club (unless you're in some formerly Communist Eastern European country where everyone has a unibrow.)
Unlike the exterior of the place, which make it appear to be a motel where you will undoubtedly be murdered, the vegan dancers were nice-looking, and not ravaged by plastic surgery (although, I prefer my strippers to be ravaged by plastic surgery), and I spoke to one named Doll Face with good facial bone structure who told me she "only eats plants, never anything made in a plant."
Wow Doll Face. Deep stuff.
Casa Diablo is highly recommended. If you're going to spend a night polluting yourself with drugs, alcohol, and the moral burden of watching somebody's daughter dance naked for the money, the least you can do is eat right.
VERDICT: HUMMUS + BOOBS = FUN.
Learn more about this heavenly place of health & vice at Casa Diablo's website, which is a .org. Which is awesome.
WANT MORE ARTICLES FROM THE FAT JEW? CLICK HERE.