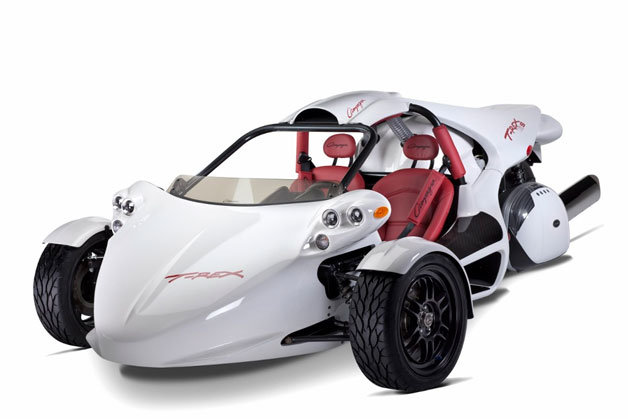 Though it's certainly a fearsome machine of some sort, it's hard to define what the T-Rex 16STM actually is. Manufacturer Campagna defines it as a high-performance reverse trike, but "trike" conjures up the Big Wheels on which we used to tool around the neighborhood, no matter how "high-performance".
So what does it do? Well, considering this generation stepped up to a 1.6-liter BMW engine instead of a Kawasaki powerplant, and can hit 60mph in under five seconds, one thing it does is give its driver a heart attack. Doesn't sound that fast? Remember that the 16STM is open-cockpit, with only a tubular chassis and a thin layer of fiberglass between you and the pavement. There's a chance you'll piss yourself in those red leather seats.
Maybe a better question than what to call it, or what it does, is who is buying the T-Rex? It's not for everyday use, or everyday drivers (despite the fact that it requires only a driver's license to operate.) It's a rich kid's toy, really -- maybe someone would bring it to a track to mess around with, but its true appeal is its staggeringly novel appearance.
And the price? An also-staggering $58,000 USD at the brand's website.
WANT MORE ARTICLES LIKE THIS? CLICK HERE.