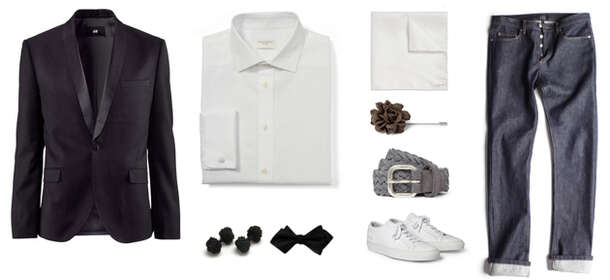 I realize this is going to read very "New York Snob", but there's nothing like New York City on New Year's Eve. Why? Well, because Robert DeNiro said so, for one thing. For another, it's the one night that everyone -- everyone -- in this seething, shining, overcrowded city is dressing at their very best, while also behaving near their very worst.
To navigate NYE in NYC (or honestly, in any city), you'll need an outfit in which you'll look good, but made up of pieces that you won't mind getting covered in beer, liquor, lipstick, peel-'n-eat shrimp, and of course, Champagne. That's not an easy proposition, so when curating this 2012-closing edition of Wear This To That, we combed the world of menswear for clothes with an equal blend of practicality, price-efficiency, and flash.
Sure, we picked some high-end pieces from the likes of Common Projects, Lanvin, and Anderson's (you want to look your best, no?), but where we could, we found great-looking, lower-end substitutes that fit the aesthetic without giving your wallet a fit.
The standout example of that, is the beautiful H&M tuxedo-style blazer, which goes for far (far) less money than the limo you rode in. Another example? The Club Monaco tux shirt we selected requires no stud set, so you don't have to worry about losing those elusive little f**kers in the club's banquettes. How's that for smart?
There's still a week before the ball drops, and your girlfriend's drunk friends belt a pitchy rendition of "Auld Syne Lange" into your brain. Check out our curated New Year's Eve party outfit, hit the store to grab what you like, then get ready to knock 'em dead when 2013 arrives.