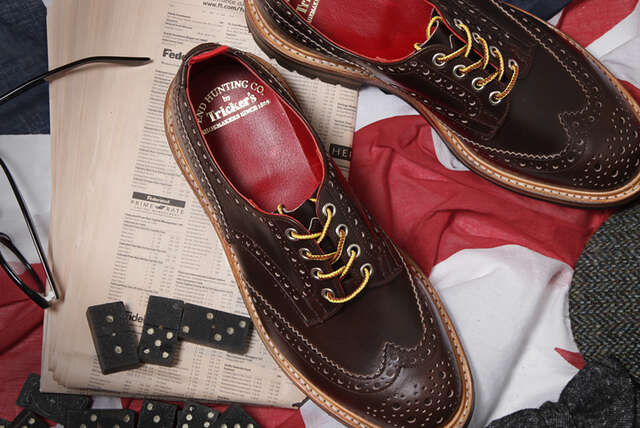 If a Brit tried to put his foot on the American flag, it'd be cause for fisticuffs. But if that Recoat foot was clad in an oxblood Tricker x End Hunting Co. brogue, and it was stepping on the Union Jack, then we Yankees say "play on". The "British Craftsmanship Collection" is what the Northampton bootmaker is calling their sixth collaboration with End, and it features exactly that sort of awe-inspiring legacy construction that transcends nationalism. These boots are beautiful.
First up is the Bourton Derby Brogue, a town-and-country lug outsoled number that'll make your feet look like they're attached to a Scottish merchant in London to sell premium sweaters. Construction-wise, the Bourton is staunch, built by hand with a leather sole, Goodyear welting, and premium Horween Cavalier Chromexcel leather uppers. They didn't overlook the details, either: the laces are rolled in wax to brave soggy Anglo-Saxon winters, and the heeltabs are cut from contrast cotton twill for a handsome touch.
Then, there's the Stow Brogue Derby Boot, which they've classed up for End with all the same features as are found on the Bourton, but in an impressive ankle-height boot. The Stow comes in Parisian blue or waxy Burgundy, whereas the Bourton is made in either a chocolate brown or the aforementioned oxblood, which they're calling the way-more-manly "lollipop".
Hit the Tricker shop at End to snag a pair before they sell out, and be ready to shell out anywhere between $575-600 USD. More pictures below.